Having fished saltwater for the past three months fairly consistently, I decided to change things up a bit and target freshwater this week. My first outing happened to be in support of a scheduled Veterans event in Smithfield, VA. This event is a large scale outing where members of the VA, Wounded Warriors, Heroes On the Water and other local active and retired military-based groups gather for a day of socialization and recreation. The activities included: a driving range, a chip shot golf target, walking tours of the facility, a herding dog demo, an archery range, presentations on kayak fishing and fishing. Fishing options included: fish off the bank, in a boat or a kayak.
For these all day outings, volunteers arrive throughout the morning, but we were afforded the opportunity to get on the water and pre-fish in preparation for the outing that began at 11am. I launched at 7:30am into what I would consider a perfect morning: picture this if you will.....a slight haze over the water as the early fall temperatures begin to assert themselves creating just the slightest fog as the sun creeps slowly towards it's zenith pushing through the clouded barriers on the horizon. The slightest whisper of a breeze traces a path across the nose on your face bringing with it a virtual bouquet of crisp, clean air..........peaceful and serene......
I decided the best approach today would be two primary presentations - a soft plastic and a small beetle spin. I started with the beetle spin to try and locate some smaller active fish. On this body of water, the depths are constantly fluctuating with deep holes up to 14' in some spots and several depth transitions throughout the lake with brush piles and other submerged structure creating prime target areas for the anxious angler in us all.. I was able to locate an aggressive bluegill almost immediately. A good sign......
The water was crystal clear, so locating the brush piles was fairly easy; however crystal clear water creates a new challenge - trying to avoid spooking the fish. I quickly changed tactics and started making longer casts to try and not alert the fish to my presence. A few minutes later while working over the first brush pile, I landed the first of what would be many largemouth bass on the day. As I worked my watermelon finesse worm across the limbs, I felt each subtle tick until the line stopped. I waited a second and saw the line start to move to the right. A quick reel down of the rod and a sharp vertical hook set, and I immediately realized I had on a decent fish. The water temperatures were a little cool, so when the largemouth didn't put up that much of a fight, I had no clue how big it was. That is until I boated it......a fat 18.5" to start the day is always a good thing!
With no real fight or disturbance of the area, I went right back to the same brush pile but only managed a bunch of juvenile bass in the 8-10" range. So I moved on to the next target area and hooked into more bass in the 12-15" class and so began the non-stop action I would experience for the the next two hours. I landed several fish like this.....
and a bunch of these......
I continued to work the areas 20-30 feet in front of me and was rewarded consistently with good pullage from the hungry bass. When I didn't find brush piles, I targeted exposed wind-blown points and the primary depth transitions 3-5' off of the banks. These transitions were everywhere on this lake and consistently held fish all day long.
As I approached this one exposed point, I saw three pockets of exposed grass staggered along the bank. I fired a cast at the furthermost grass outcropping thinking I would cover all three pockets by passing in front of each one first, then I would go back and work each pocket if need be. As I worked my soft plastic in front of the first pocket, I felt a solid take and the line started to move quickly away from me. I reeled down and quickly was rewarded instantly with a drag ripping run straight behind me. I caught a glimpse of the bass as it raced past me and realized I had a good one on. Fortunately, she decided to just run back to the portion of the shoreline where there was no structure to get tangled in or possibly break the line.
I turned my Hobie around and leveraged the proper angle on her to turn her and start working her in. She made a couple more drag ripping runs trying to escape, but I could see the hook was buried good and I knew I had a good chance of getting this beast in. I finally got her close enough and quickly netted her not wanting to waste any more time. She ended up being the best fish of the day measuring in at 19.75".
By the time I headed back in to help out with the events planned for the day, I had landed 18 fish - 1 bluegill and 17 bass. After the initial briefing from the hosts, I recognized a couple of familiar faces had joined us for the day as volunteers - none other than Kevin and Beth from TidalFish!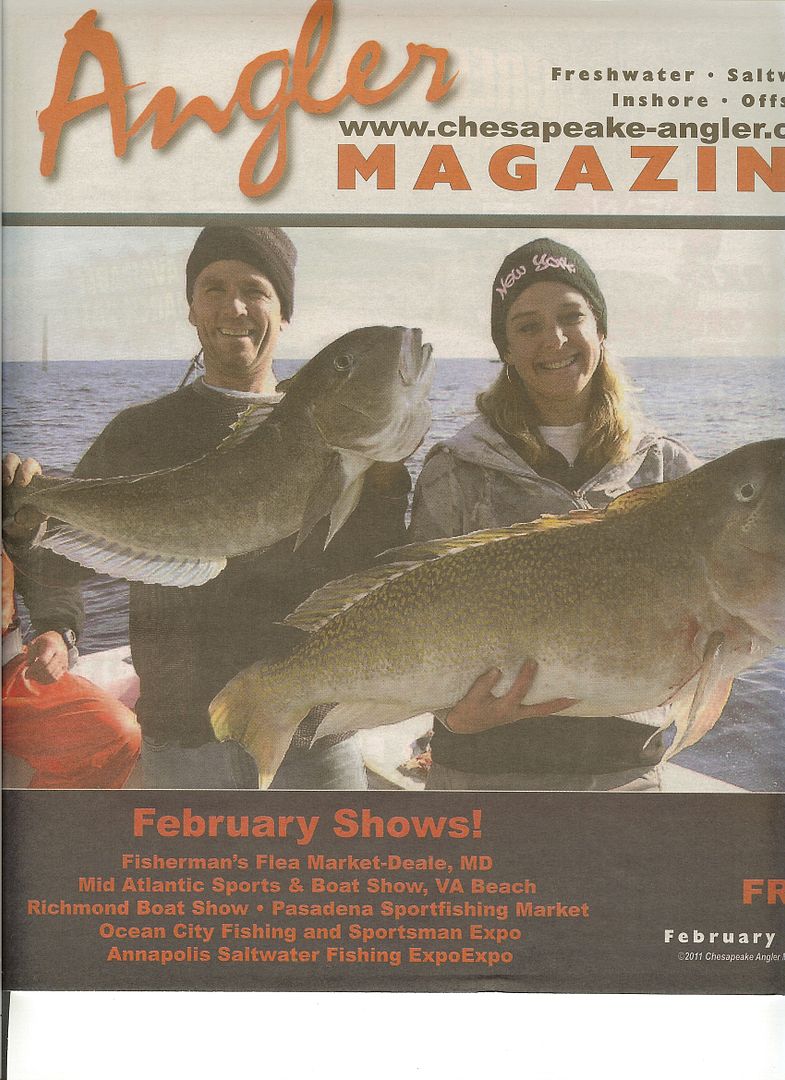 I made my way over and chatted with them a bit and convinced them to take a stab at kayak fishing. We made our way over to the other pond and helped them get situated in a couple of extra kayaks. Our hero participation for the day was a lighter than expected, so some of the volunteers were afforded the chance to get on the water if they wanted to. I took both of them out and headed straight for a cove that had produced for me in the past. I talked them through the location and presentation techniques I was using earlier. As I was showing them how to work the lure, I hooked into a nice 17" largemouth.
At this point, Beth's reel started acting up, so I handed her the reel I was using rigged with the same soft plastic. A few minutes later, Beth lands her first freshwater largemouth bass, and a good one at that! She measured in at 16". It was cool watching her reel it in and land it like she had been bass fishing her whole life.
Then again, being a well respected and veteran angler in this region, I had every confidence that this dynamic duo could handle their own. The rest of the outing consisted of a lunch break with some good eats - chili, comfort soup, beans & weanies, chicken salad sandwiches and plenty of good desserts. Although I wasn't able to get Kevin on a fish, I know a little more time on the water that day and it would have happened. The fish were in a feeding mood, and I was fortunate enough to have figured out the bait of the day early on.
The event was a success yet again with smiles and laughter all around. I was able to help out some friends experience the kayak fishing lifestyle and help them get on some fish. A successful day on the water if you ask me. Sometimes is pays to take a fresh approach.
Here's a video of the highlights of the day - enjoy!!
Tight lines and be safe!!